Skip to Content
Achieve a Perfect Smile
If you would like to correct irregularities in your smile, you might want to consider crowns. Crowns give you the opportunity to correct cracked or chipped teeth, cover stains, reinforce eroded teeth, and much more. Our Westlake dentist, Dr. Woyat, will be able to recommend the best option for you, given the needs of your teeth.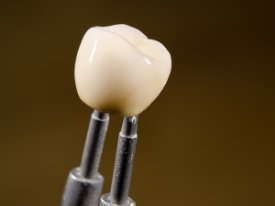 Types of Crowns
Crowns can be made in a variety of materials, including:
Porcelain
Metal
Combination of porcelain and metal
While a metal crown offers the most support for your tooth, cosmetically a porcelain option is much less noticeable. Discuss your wishes with our dentist to determine the aesthetic appearance of the crown. We can work with you to achieve the look you desire.
Corrective Care from our Westlake Dentist
Broken and decayed teeth need to be reinforced in order to avoid causing you jaw pain and prevent reactive crowding from the rest of your teeth. A crown is used to reinforce a broken tooth that has been weakened due to decay. We offer a variety of options to fit your personal preference. The team at Dental Care of Westlake is happy to examine and recommend the proper course of action to help you regain your confidence. Reach out to our office by calling 440-835-0012 at your earliest convenience!