Skip to Content
Our Westlake Dentist Can Enhance Your Smile!
Upon losing a tooth, if you are unable to salvage the original tooth, our Westlake dentist may recommend that you install a replacement. When you are missing a tooth, the rest of your teeth may begin to shift into the space left behind by the lost tooth. An implant is a procedure that restores your bite with an artificial tooth that is virtually indistinguishable from your natural teeth.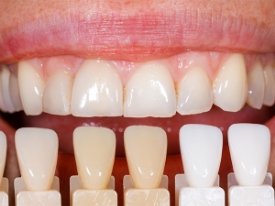 Installing Dental Implants
Problems you may encounter when missing a tooth include:
Crowding of other teeth
Bite problems and slipping
Chronic jaw pain
Replacement Option for One or Several Teeth
Whether you are missing one tooth or several teeth, implants can help restore your bite. If you are simply missing one tooth, an implant and cap can easily fill the gap. For patients missing multiple teeth, Dr. Woyat may recommend implants installed to reinforce a bridge, which snaps over top of the gap. When you are missing all your teeth, consider securing your dentures with implants for a tighter fit. The team at Dental Care of Westlake is happy to examine and recommend the proper course of action to help you regain your confidence. Reach out to our office by calling 440-835-0012 at your earliest convenience!