Skip to Content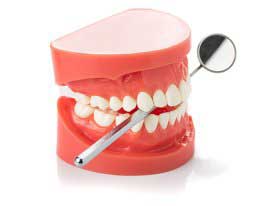 Replacing Teeth in Westlake
Whether through injuries, the aging process, or advanced gum disease, you might experience tooth loss in your lifetime that will require treatment with dental restorations like dentures and bridges. Both of these options are suitable for areas of multiple missing teeth that might pose a risk to your smile with drifting of the natural teeth, the recession of the jaw bone, and decay on exposed tooth surfaces. At Dental Care of Westlake, you will find a complete range of dental restoration treatment options with an honest assessment of the best choice for your smile. Keep reading to discover the difference between dentures and bridges along with the treatment process for each of these solutions.
Dental Restoration Treatment Process
Every dental restoration is a unique case that will demand a custom approach to treatment for long-lasting results. Your treatment may involve several visits to our office, and these visits might include the use of temporary restorations while your permanent dentures or bridges are being crafted. Here's a closer look at the steps involved in treatment with these restorations:
X-rays and planning – X-rays will reveal any damage that may have taken place in the jaw bone as a result of missing teeth. They can also help in mapping the topography of your smile to ensure a snug, secure fit with your new bridge or dentures. Your gum health will also be a critical factor in treatment planning, since bridges are more appropriate for patients with healthy gums, while dentures can be adapted to a wider range of cases.
Dental implants – In cases where partial bridges or dentures are appropriate, dental implants may be recommended. Dental implants attach to the jaw bone and serve as anchors for restorations for improved functionality and comfort.
Permanent restoration placement – The final step in any dental restoration is fitting the permanent appliances into the mouth and ensuring that they fit properly. You may need some time to adjust to your new restorations, but our team can help you make a smooth transition to preserve your dental health.
Choosing Between Dentures and Bridges
Bridges are appropriate for filling in the gap of one or two missing teeth, while full dentures can restore your entire smile. Partial dentures offer an option in between that will address extensive tooth loss while preserving healthy natural teeth. In order to choose the right option for you, Dr. Woyat at Dental Care of Westlake will assess the number of missing teeth, the condition of surrounding teeth, and the health of your gums.
Our dentist will help you select between partial dentures or a bridge based on the following factors:
The condition of your gums
The condition of your surrounding teeth
The amount of missing teeth
If you are not certain whether dentures, partial dentures or a bridge is the best route for you, allow our dentist to give you an honest recommendation. We can evaluate your teeth and discuss your options. Contact us today at 440-835-0012 to schedule your appointment.