Skip to Content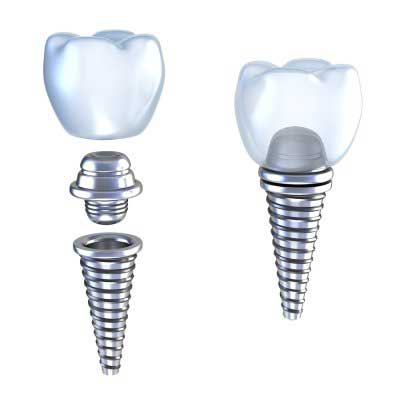 Have you been hearing a lot about dental implants in Westlake? Dental implants are a growing part of cosmetic dentistry and dental restorations because they offer a permanent solution to replacing missing teeth. Implants are made from titanium to offer a safe and effective way of supporting dentures, dental bridges, and crowns for patients missing one or more teeth. Continue reading to learn more about how dental implants can work for you.
Implants Are Permanently Fused to Bone
Your dentist or oral surgeon will implant a titanium rod into your gum line and down into the jawbone. As you heal from the oral surgery, the dental implant will fuse with your jawbone to create a permanent and stable fit. This fusion is known as osseointegration.
Abutments Connect the Implants to Dentures
Over the next few months, your gums will heal. The implants are shaped like screws, so a dental restoration cannot fit properly on it. Your dentist will screw on an abutment over the implant, and that is what the restoration will connect with. The abutment may also be made of titanium, but some may come in gold or porcelain. Abutments may be shaped like a small, shaved-down tooth or a circular pin that the restoration will snap on or off from.
Implants Can Support One or More Tooth Restorations
Dental implants offer a great way for patients to have their smile completely restored, whether they are missing one tooth, several teeth, or all of their natural teeth. Dental implants can be implanted into the lower and upper jaw, offering patients the opportunity to restore missing teeth, no matter it is needed. If you are missing only one tooth, then one implant will be needed to support a single dental crown. A dental bridge may only need one implant, as well. Implant-supported dentures typically need two or more implants to fully support the restoration.