Skip to Content
What to Expect When You Get Dentures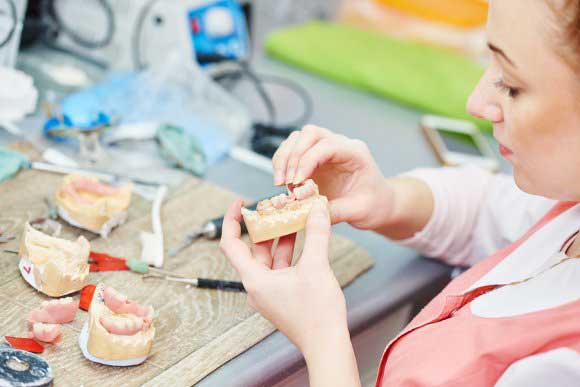 Are you considering dentures near Westlake? As your dentist will advise you, dentures are ideal for almost all men and women who are missing some or all of their teeth. Millions of Americans are missing teeth, and it is important to find the best solution for your particular health concerns. Thanks to new developments in cosmetic and general dentistry, today's dentures are more comfortable, attractive, and affordable than ever before. Read on to find out what to expect when you invest in dentures.
Comprehensive Consultation
The first step in getting dentures involves visiting your dentist for a comprehensive consultation. As your dentist will tell you, almost everyone who is in good overall health is also a good candidate for dentures. Most people have experienced significant tooth loss while still maintaining healthy jawbone tissue. During your exam, your dentist will test to make sure you have sufficient jawbone to support your new dentures. Your dentist will also make sure your gums are healthy. If you have gum disease, it will be treated before you are fit for dentures.
Comfortable Fit
When you get dentures, you can expect to feel comfortable smiling, laughing, talking, and eating. Modern dentures can be completely customized to your mouth. Your dentist will make sure your dentures fit properly by taking a series of impressions of your jaw and mouth. After that, your dentures will be crafted in a special dental lab. You might try on several models or visit your dentist for adjustments to make sure you pick the right dentures and they fit how they should.
Easy Maintenance
Whether you invest in full dentures or partial dentures, you can expect for aftercare to be a simple process. Just like with your natural teeth, it is important to regularly clean your dentures. Dentists recommend using warm water and a soft-bristled toothbrush to remove any plaque build-up. You may also want to purchase a denture-soaking liquid so your dentures can be cleaned overnight. Finally, you should attend follow-up visits with your dentist for adjustments that can ensure a comfortable fit with your dentures as the aging process causes changes in your jawbone and gum tissue.